The winners of the 2015 Founders Day Passport Contest are as follows:
• Winner #1 - Rosemary Beloin – Fit Bit Flex
• Winner #2 – Gloria Caprio - $75 gift card to Zinc Restaurant
• Winner #3 – Maria Zapata – HD Kindle Fire
• Winner #4 – Jennifer Bonito – Dr. Dre Beats headphones
Congratulations to the winners!
We received over 300 stamped passports. It is our hope that you enjoyed the open houses and tours that day!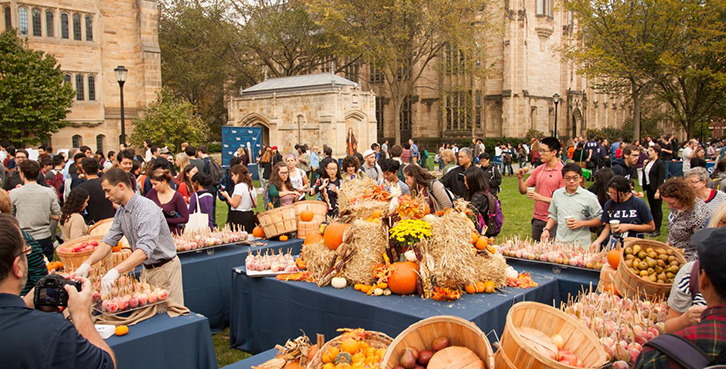 Yale University has a dynamic history dating back to the early 18th century. One of the earliest institutions of higher education established in North America, it was the first to have service to society explicitly inscribed in its founding legislation, a place "wherein Youth may be instructed in the Arts & Sciences who thorough the blessings of Almighty God may be fitted for Publick employment both in Church & Civil State." That language is found in "An act for Liberty to erect a Collegiate School" enacted by the Connecticut colony in New Haven on October 9, 1701, marking the establishment of what has grown to become the Yale University of today.
In the spirit of celebrations of previous generations, the presidential inauguration events of 2013, and in keeping with the spirit of encouraging everyone from any particular part of campus to explore and embrace all that the campus has to offer, Yale began a new tradition in 2014 of a "Founders Day" event for students, faculty, and staff, to be held annually on a day close to the anniversary of the 1701 founding.
This year, Founders Day events will be held on Wednesday, October 7, with open houses and other activities across campus, culminating on the Cross Campus in the afternoon with remarks by President Salovey, student group performances, festive food, and more!
---
Schedule of Events
Click here for a full page of scheduled events and other information to be posted in advance of this year's Founders Day on Wednesday, October 7. Check back as more events are added.